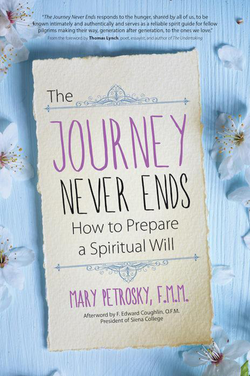 The Franciscan Store
The Journey Never Ends
In the first book of its kind specifically for Catholics, theologian, spiritual director, and social worker Sr. Mary Petrosky, F.M.M., shows how a
spiritual will
—a document that outlines your values, intentions, and hopes for the future—can help you focus on what's most important in your life. As you grow older, it will be something you'll want to share with those you love. 
The Journey Never Ends
guides you through the process of preparing a spiritual will as an expression of your life's intentions. If you are a Catholic or Christian of another background, you will find this a useful tool for creating the kind of life you want to live now in order to positively impact the world around you.  In addition, like a traditional will, it will help you create a legacy for your family.
Paperback

Pages: 28

5.75"x 8.25"