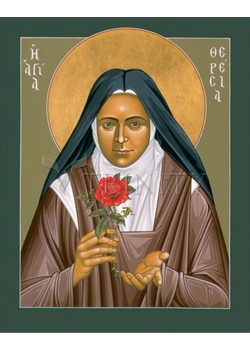 St. Thérèse of Lisieux Holy Card
Until recent times it was difficult to find a Catholic Church without a statue of Thérèse of Lisieux. While statues seem less in vogue since Vatican II, this saint remains one of the most popular in the Roman Church. On one level she accomplished next-to-nothing in her brief life. When she died of tuberculosis at the age of 24, the prioress of her monastery wondered what she could possibly write in the obituary that would be sent to the other Carmelite monasteries. On a deeper level, Thérèse helped revolutionize modern Christian concepts of holiness.
Artist: Br. Robert Lentz, OFM

Artwork displayed on front of cards.
Your choice of 4 sizes (2¾ x 4 or 3½ x 5 or 4 x 6 or 5 x 7).
Your choice for back of cards: Artist Narrative, Title Only, Blank, or Custom Text.