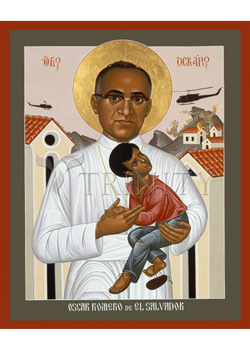 St. Oscar Romero of
El Salvador Holy Card
By: Fr. Robert Lentz, OFM
Artwork displayed on front of cards.
Your choice of 4 sizes (2¾ x 4 or 3½ x 5 or 4 x 6 or 5 x 7).
Your choice for back of cards: Artist Narrative, Title Only, Blank, or Custom Text.
The model for bishop in the ancient church was a shepherd who walked before his people through whatever dangers they might face. He stood among the poor and the oppressed. And like the Apostles before him, he died a martyr.

While medieval bishops became princes and many modern bishops become bureaucratic administrators, the bishop as pastor among the people is reappearing in the church. Oscar Romero was such a bishop.