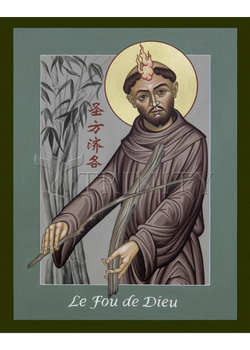 St. Francis Le Fou de Dieu Holy Card
By: Fr. Michael Reyes, OFM
Artwork displayed on front of cards.
Your choice of 4 sizes (2¾ x 4 or 3½ x 5 or 4 x 6 or 5 x 7).
Your choice for back of cards: Artist Narrative, Title Only, Blank, or Custom Text.
"What else are the servants of God but God's minstrels, whose work is to lift up people's heart to spiritual joy, that they might love God gladly."
—St Francis of Assisi

His feast day is October 4.