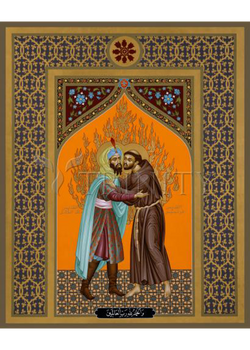 St. Francis and the Sultan Holy Card
By: Fr. Robert Lentz, OFM
Artwork displayed on front of cards.
Your choice of 4 sizes (2¾ x 4 or 3½ x 5 or 4 x 6 or 5 x 7).
Your choice for back of cards: Artist Narrative, Title Only, Blank, or Custom Text.
In 1219 St. Francis and Brother Illuminato accompanied the armies of western Europe to Damietta, Egypt, during the Fifth Crusade. His desire was to speak peacefully with Muslim people about Christianity, even if it mean dying as a martyr. He tried to stop the Crusaders from attacking the Muslims at the Battle of Damietta, but failed. After the defeat of the western armies, he crossed the battle line with Brother Illuminato, was arrested and beaten by Arab soldiers, and eventually was taken to the sultan, Malek al-Kamil.