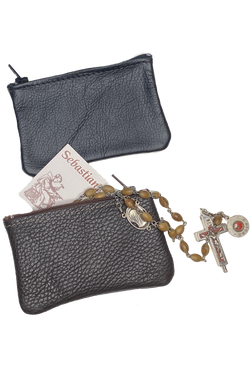 The Franciscan Store
Br. Sebastian's Small Rosary and Coin Pouch
Black or Brown
Hand-crafted Leather
Approximate Size: 4" x 2"
Br. Sebastian made his solemn profession in 1965 at St. Francis of Assisi Church in New York City.  In 1970 he was stationed there and expressed his desire to become a sandal maker.  He took shoe-making classes and eventually became a full-time sandal maker for Holy Name Province.  He has been making sandals and other leather-crafted items ever since.
Br. Sebastian makes this leather rosary pouch.  It has a separate compartment inside for coins.  Available in brown or black.
Rosary not included.