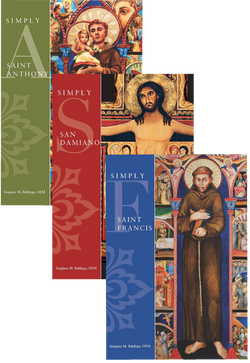 The Franciscan Store
"Simply-A-Set" Series
3 Booklet Pack
Enjoy all three Simply books written by Fr. Sergiusz: Simply St. Francis, Simply San Daminao and Simply St. Anthony in one box set!
If you have a strong need for a change in your life, if you long to return to the source of happiness, then contemplate the Icon of Saint Francis in Simply St. Francis. Let Fr. Sergiusz guide you so that you can discover the desires of your heart and find your own place in the world. 
With thoughtful explanations and prayerful meditations Fr. Sergiusz also leads us into the icon of Christ, the San Damiano Cross. He skillfully comments on the significance of its colors and figures, and poses reflective questions about Jesus for today's reader.
Lastly, Simply St. Anthony introduces us again to the life and times of St. Anthony of Padua with a new approach. Just as St. Anthony drew on powerful and relatable images in his preaching and teaching, Friar Sergiusz draws on both common and uncommon images to bring new life to one of the greatest Franciscan saints! 
Simply St. Francis: 36 Pages
Simply San Damiano: 28 Pages
Simply St. Anthony: 32 Pages