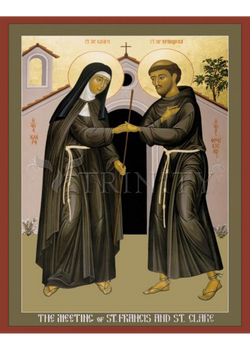 Meeting of St. Francis
and St. Clare Holy Card
By: Fr. Robert Lentz, OFM
Artwork displayed on front of cards 
Your choice of 4 sizes (2¾ x 4 or 3½ x 5 or 4 x 6 or 5 x 7).
Your choice for back of cards: Artist Narrative, Title Only, Blank, or Custom Text.
St. John wrote that God is love. "God is friendship", echoed St. Aelred. Like holiness, friendship is best understood when it is incarnated. One of the richest friendships in history is that of Francis and Clare of Assisi. This icon depicts the visit of the two saints at the Portiuncula for a meal. This was the only meal they were to share. They seldom saw one another, yet their bond of friendship made them spiritual twins.