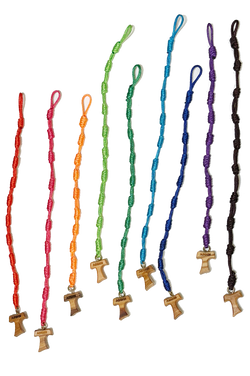 The Franciscan Store
Colorful Tau Cross Knotted Bracelet
These colorful corded Tau Cross Bracelets make wonderful gifts for you or your family and friends.
A choice of nine different colors which include red, pink, orange, lime, dark green, turquoise, dark blue, purple, and black. Have fun mixing and matching them or layer with other bracelets.
St. Francis used the Tau as his signature on his letters as a symbol, a seal, and a coat of arms.

All items are designed and handcrafted in Assisi Tau Cross reads "Assisi".