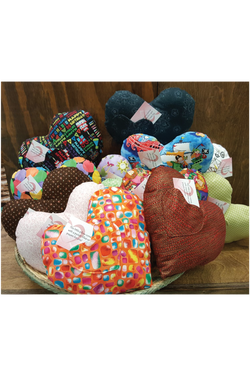 The Franciscan Store
Christmas Prayer Pillows
Heart-shaped pillows, stuffed with love and prayers in Christmas Prints.
Christmas prints may vary.
Prayer Pillows  
Each prayer pillow comes with a card that reads, "This little pillow comes with a pocket filled with prayers for you." The pillows come in a variety of colors and fabrics, suitable for adult women, men, and children. Originally sewn by Sister Dominica Niedbala OSF and Sister Sharon Havelak OSF it has become a village effort with many Sisters sewing, stuffing and filling the pillows with their prayers.