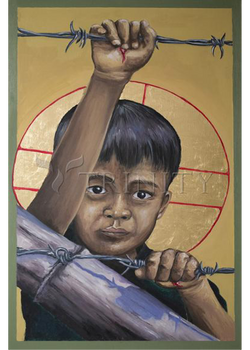 Christ the Dreamer Holy Card
By: Fr. Michael Reyes, OFM
Artwork displayed on front of cards.
Your choice of 4 sizes (2¾ x 4 or 3½ x 5 or 4 x 6 or 5 x 7).
Your choice for back of cards: Artist Narrative, Title Only, Blank, or Custom Text.
"God asks us little and gives us a lot. He asks us to open our hearts and to welcome Him and the most vulnerable of our brothers and sisters."
–Pope Francis
This painting is inspired by the work of my mentor Br. Robert Lentz, OFM. In the early 80's, Br. Robert painted an icon called "Christ of Maryknoll" depicting Christ as an immigrant behind barbed wires. I was moved to paint a version for today's society, depicting Jesus as a defenseless migrant child.