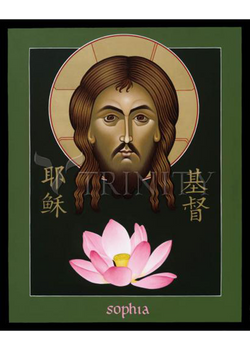 Christ Sophia: The Word of God
By: Fr. Michael Reyes, OFM
Artwork displayed on front of cards.
Your choice of 4 sizes (2¾ x 4 or 3½ x 5 or 4 x 6 or 5 x 7).
Your choice for back of cards: Artist Narrative, Title Only, Blank, or Custom Text.
This icon celebrates the profound harmony that can exist between Eastern and Western spiritualities. Asian peoples who encounter the Gospel of Christ bring to it thousands of years of spiritual maturity from their own cultures. This joining of wisdoms, like the confluence of mighty rivers, is the work of Holy Wisdom, who has been at work in creation since the beginning of time.